Important Information for Parents
Important Contacts
Students Handbook
School Uniform
School Calender
Stationery List
Dear Parents,

In order to achieve the vision and mission to find an effective communication with parents, we are pleased to provide the following information to facilities access to the completion of all the services you may need

No
Task
Contact Person
1
Academic advice or question
Academic Adviser
Mr. Francis Olalere
2
Absence/Delay /Students day off/Questions about discipline policy /Problems between students/Permissions for students / Behavioral problems / Appointment with teachers
Head of Students' Affairs
Mrs. Soumaya Hamdan for KGs – G1
Mrs. Alia Dabous for G2-6
3
Special problems in students' behavior / Psychological and social cases / Activities / Trips / Entrance Exams/ Learning difficulties / Academic support program
School Counselor
Miss Haneen Allouh
4
Books/Appointment with principal /Issues with cleanliness or maintenance / Students' Reports / Files / To whom it may concern
Receptionist
Mrs Kholoud Alsheikh
5
Borrowed books and stories
Librarian
Mrs Louela Estero
6
Health issues
School Nurse
Mrs Basma Fouad
7
Academic issues/ Problems / Notes
Teachers
8
Payment of tuition fees- Book fees
Accountant
Mrs Manal Nasrallah
Dear Parents
In the interest of Educare International Academy administration to increase the bonds of cooperation between home and school, and in order for the vision to be clear, this guide was issued to provide a clear picture of the policies and systems that ensure discipline and effectiveness in the educational process.
Your participation and cooperation with us to abide by the guide of regulations and laws to achieve success and continuous development of the course of work in the academy are of great importance.
Please, read the instructions carefully, abide by their policies, and integrate our children so we would achieve our desired goals. Please sign the attached commitment form enclosed in the last page, which would be delivered to your child/children, and please send it back to school as soon as possible.
Thank you for your cooperation.
Educare International Academy Administration
Please do download the Student Handbook for Academic Year 2022-2023
الدليل الإرشادي للطالب وولي الأمر 2022-2023
Official School Uniform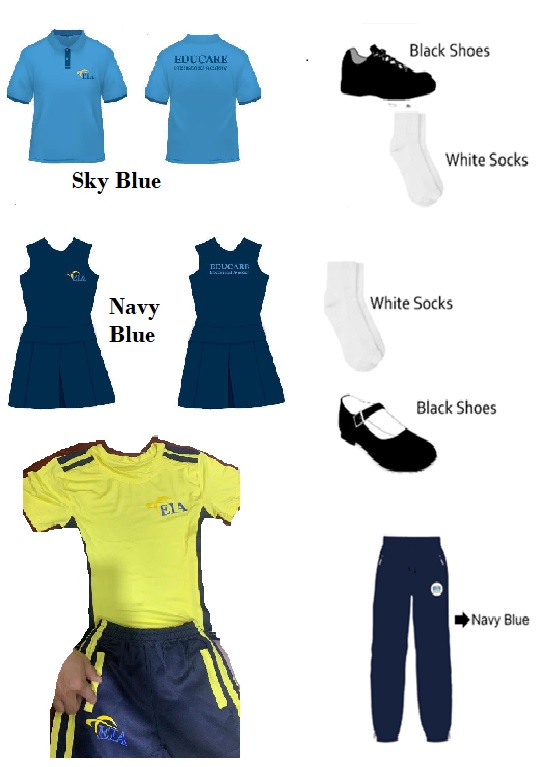 School Calender for the Academic Year 2023-2024
Please do download to view the School Calender for Academic Year 2023-2024
Stationery List for the Academic Year 2023-2024
Please do download to view the Stationery List for Academic Year 2023-2024
Study Materials